Fila MP/90 Sealer 1 Litre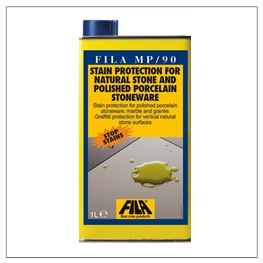 FILA MP90 1 Litre sealer for Travertine, marble, granite, limestone, porcelain, natural Stone
The best stain protection for polished marble, granite and porcelain stoneware.
Anti-graffiti treatment for vertical walls in natural stone.
Ideal for protecting tables, bathroom tops and kitchen counters.
Does not alter the natural colour of surfaces.
No film forming.
Certified as suitable for use on food contact surfaces.
Excellent for tables and windowsills.
Ready to use: do not dilute.
Seals, protects, makes maintenance easier.
£47.99 Including Uk Delivery