Lithofin Colour Intensifier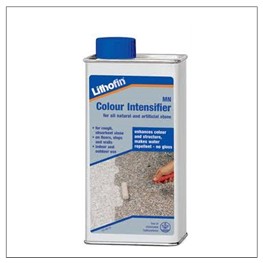 A special product from the LITHOFIN-Range for marble, natural and engineered stone (MN). This ready-to-use siloxane impregnator is solvent based and contains special colour intensifying components.
Lithofin MN Colour Intensifier penetrates into the surface rendering it water repellent while at the same time intensifying the colour without producing any gloss. Surfaces appear more colourful and fresh – "wet effect". The water resistance reduces the sensitivity of the surface, largely preventing staining and facilitating maintenance.
Lithofin MN Colour Intensifier does not form any layers, thereby maintaining the surface's water permeability. The slip resistance of the surface is hardly affected.
Durability: indoors and with correct maintenance nearly unlimited. Outdoors, depending on the type of stone, the colour will remain for approx. 1 to 2 years, the protective effect for several years. Can be reapplied when the effect fades.
For adding lustre to wall and floor surfaces, stairs, entrance areas, terraces, etc. which appear bland and colourless. Suitable for indoor and outdoor use.
Surfaces: all absorbent, porous natural stones (e.g. granite, gneiss, porphyr, marble, limestone, slate, etc.) and engineered stones with rough, sawn, honed and flamed surfaces.
£31.90 Including Uk Delivery