Fila Stone Plus enhancer 1 Litre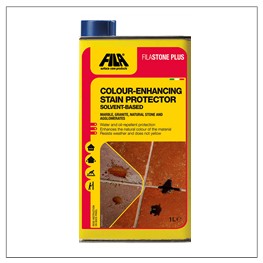 FILA Stone Plus 1 Litre colour enhancer for natural stone marble travertine etc
Protects and enhances the original colour of polished, honed, rough and tumbled natural stone.
Penetrates deeply into the material,protecting it from water and oily stains and dirt.
Ideal for window sills, tops, rosettes, inset decorations. Perfect for interior and exterior surfaces.
Intensifies colour whatever the surface finish.
For interior and exterior surfaces.
Non-yellowing, UV resistant, provides long-lasting protection.
Very high coverage rates.
Eliminates weaknesses in granite.
No film forming.
Certified as suitable for use on food contact surfaces.
£42.99 Including Uk Delivery