Lithofin Care Sheen 1 Litre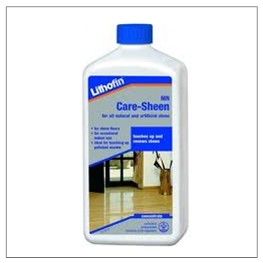 A special product from the LITHOFIN-Range for marble and natural stone (MN). Solvent free emulsion based on natural waxes, high quality polymers as well as cleaning and
self-glossing additives.
Lithofin MN Care-Sheen forms an easy-to-polish protective film and enhances the appearance of the surface by slightly intensifying the colour structure.
For touching up and protecting polished marble, travertine and granite floor surfaces, which have become matt or dull. Lithofin MN Care-Sheen contains cleaning
substances and can be used for regular maintenance on surfaces subject to low levels of wear and tear.
Also suitable as an initial treatment of rough and honed surfaces where a satin gloss is required. For indoor use only.
£21.95 Including Uk Delivery